Choosing an insulation blowing machine is a lot like choosing bathing suits. "One size fits all" really isn't the best approach. If you buy a machine that's too small, it seriously restricts your business. On the other hand, one that's too large raises operating costs and can get away from you.
Watch our video and read on to see how you can choose the right equipment for the job — and find your perfect fit — every time.
DECIDE THE TYPE OF WORK YOU WANT TO DO
Let's say your focus is small retrofits. As a home performance company, you will be crawling in and out of tight spaces, air sealing, and addressing many different concerns — including insulation.
In that case, pulling up a box truck with a gas-powered 100 bag per hour machine is overkill. You'll need to dial back the machine so much that you'll barely use it. Plus, getting the vacuum in and out of the box truck is a bigger challenge than with a small trailer.
On the other hand, if your focus is filling the ceilings on a three-story, multi-family building, a small 12-18 bag per hour machine could take up to five times as long. All profit from the job would be eaten up by labor due to the delay. Your production rate would slow down other trades and put you and the superintendent at odds.
The type of work you want to do will help you determine the best insulation blowing machine for the type of contracts you're taking.
LEARN ABOUT THE DIFFERENT BRANDS
Becoming familiar with the best cellulose insulation blowing machine brands makes it easier for you to choose the right fit when the time comes. Popular brands include:
CONSIDER IMPORTANT QUESTIONS
After you decide the type of work you intend to do, there are more things to consider:
If you are using electric machines, will your job sites have a power source that you are allowed to access? Do you have a generator just in case?
If you're going gas-powered, what size do you need, and what equipment goes along with it?
How much maintenance is required, and who will maintain it? What about service and parts?
What will it take to get it up and running, and is it available in one day or two weeks?
Be sure to institute a daily process or S.O.P. to ensure the insulation blower parts are maintained, working at maximum efficiency, and ready to go.
Cordless or remote?
Remotes are another important worksite consideration. Most machines come with a corded remote, but wireless is a very convenient option. They work beautifully unless something happens to them. Going wireless is a good idea, but get the corded option too. Always have a backup.
Maintain Your Equipment
It's important to have an insulation blower maintenance kit. You never know when the seals may need to be replaced, so you should be prepared. In this kit, always have dry lubrication for chains ready to go. If your crew sprays the chains with WD40, it will just coat them with dust from the fiberglass or cellulose. Keeping chains moving smoothly is essential, so be sure to have a plan.
Once you get a machine, wax the hopper. It only makes sense that the product will glide over the surface better if you give it a boost by waxing the hopper. If you need assistance with this type of maintenance, contact your local rep about scheduling a visit from one of our techs.
Consider how much you plan to install in a day. A 26' box truck with a machine mounted in it can hold up to 200 bags of product. A 16' trailer can't touch that.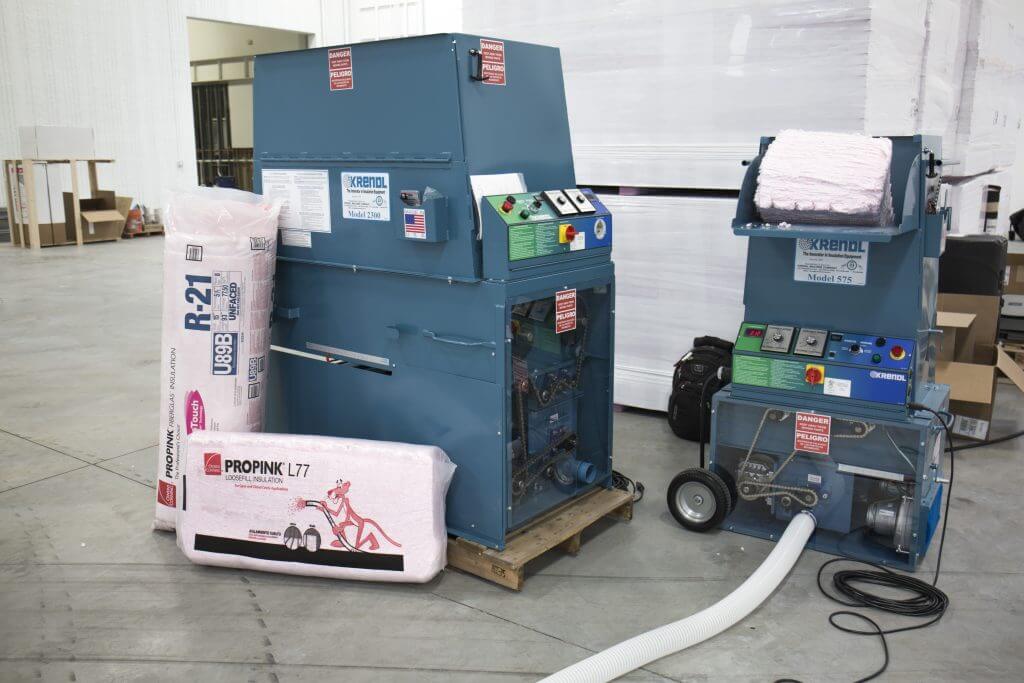 Buying Options: Comparing Insulation Blowing Machines
With all of this in mind, let's look at the different types of blown-in insulation machine available for purchase:
ENTRY-LEVEL ELECTRIC AND PORTABLE INSULATION MACHINES
Cost: $5,000-$10,000
Easy to move in and out of truck or trailer
Small footprint (doesn't take up much room)
They blow 10-25 bags of fiberglass or 60-70 bags of cellulose per hour
Good for 5-10 jobs per week, possibly 4 attics per day
Smaller hose (3")
Minimal hopper capacity — half to one bag at a time
Great for high rise construction where work requires moving machine from location to location
Mid-level machines
$10,000-$18,000
Gas or electric — normally truck or trailer mounted
30-60 bags of fiberglass per hour
120-150 bags of cellulose
Larger hoses (4")
Larger hoppers can hold up to 4 bags
6-10 jobs per day
HIGH VOLUME INSULATION MACHINES (large gas, diesel, or PTO)
$18,000-$40,000
Volumes of 60-100 bags of fiberglass plus
200-240 bags of cellulose
Can do up to 15-20 jobs per day
Much larger or extended hoppers can hold up to 8+ bags on a standard hopper and 10+ on the extended hopper
Learn more about our insulation machine offerings here.
For more information on blowing machines or any of the products we carry, reach out to your local branch or give us a call at the corporate office (1-888-843-1318).