Sometimes you hear things and think, "why do I need to do that", other times you are told to do things differently and it just makes sense.
About two months ago, I got a call from someone whose job was being held up over "sprinkler tents".  It was the first time I'd ever heard of it and no other information or solution was provided. On that project there had already been a debate if they were going to go with spray foam or fiberglass. The building owner decided that rather than hold up the project, they chose a different insulation method and wrote it off to a rouge code official. Then, just a few weeks later, another code official stopped a project based on the need for sprinkler tenting. I would have thought it was the same code official, but this was several states away. In fact, it was a city where I had dealt with the fire marshal and inspectors in the past. And… let me tell you, when it comes to code enforcement, Pflugerville, TX is a very well informed, "by the book" jurisdiction. Additionally, this being the second time it came up, it led me to believe we would be seeing a lot more of this going forward. And with that, I did some research.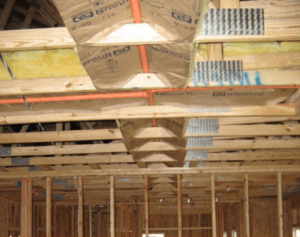 While online resources gave some great info, I eventually got to speak with one of the engineers from the National Fire Sprinkler Association. As it turned out, tenting sprinkler pipes is meant to keep sprinkler pipes from freezing. CPVC and many other pipes tend to be very brittle. Not only that, unlike plumbing, the water in them does not move. This means whatever the temperature is in the area they are housed; they will eventually reach it. Tenting allows heat from an adjacent conditioned space, to warm the air around the pipe. Essentially the pipe is to be passively conditioned by the space next to it. Regardless of the insulation type, if there is insulation between the pipe and conditioned space, the pipe will not benefit from the conditioned space.
Regarding the standards and codes, water filled sprinkler pipe has to be maintained at 40 degrees or above. This is referenced in both the IRC (NFPA 13D, section 9.1.1.) and the IBC (2021 section 903 referring to the NFPA 2019 edition NFPA 13 section 801), as well as the National Fire Sprinkler Association's Insulation For Fire Sprinklers Guide.
Once could assume that enforcement would be mostly considered in the north, but night sky cooling and rouge cold fronts can still create attic temperatures cold enough to freeze pipes in parts of the south. According to the NFSA guide, effective fire sprinkler tenting can be achieved by using batts secured in place over the pipe, or by using a barrier between the pipe and insulation. When reading the document, I could not find specific or defined barrier requirements, so I contacted the NFSA. Their message was simple, as long as it helps trap the heat and can hold the insulation long term, it's good.
With this in mind, your tenting could be faced batts (secured in place, stapled every 6" minimum), or for blown in insulation, you can use baffles, Typar/Tyvek or any fabric that could be considered an air barrier. For more information, please see the NFSA guidance dated April 2020. If you want to save some reading, you can go directly to pages 8-9 for guidance and examples.
If you have more questions on this or any of the products we carry, reach out to your local branch, or contact any of us at IDI, where we look forward to earning your business every day.