Discover the spray foam products that have taken the insulation market by storm in 2020. IDI has insights into the most innovative, user-friendly, long-lasting and efficient products of the year. Featuring well-known brands across the industry, find the must-have product for your next insulation job. 
DECREASE DOWNTIME WITH THESE 6 EASY-TO-USE SPRAY FOAM PRODUCTS
Sick of spending your downtime repairing and cleaning equipment? These six premium spray foam products will take hours off your projects and provide you with long-term reliability.
1. Graco: Fusion PC Gun
The revolutionary Graco Fusion ProConnect gun is the only gun available that features an easy-to-use, disposable replacement cartridge that enables contractors to complete a perfect rebuild in seconds — maximizing uptime and minimizing
spare parts inventory. 
Sprays like a Fusion AP

Includes 13 parts that

combine into one disposable ProConnect cartridge

Provides easy access to the mixing

chamber without removing the fluid housing

Check valves are i

ntegrated for cross-over containment

Requires less

time rebuilding, just swap out the cartridge and keep spraying
2. Bullard: Bullard AirGuard
Bullard AirGuard takes monitoring your breathing air into the 21st Century with its extra-large 7" color LCD screen. Now you can clearly see the status and quality of your breathing air, making this one of the best spray foam insulation products for job site safety when it comes to fumes and dust inhalation. Workers love its battery-operated function — making it portable and convenient for any job, anywhere. Since this fresh air system is high pressure and is run off a compressor, be sure you speak with one of our specialists to make sure it is sized accordingly.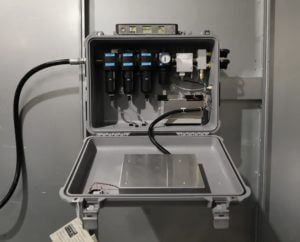 3. Graco: New Heated Whip Hose
Graco's Improved Flex heated hoses are a premium spray foam product designed specifically for use with Reactor Equipment. This will make your spraying job easier to maneuver around the job site! Hoses are a key component to the total system, making it important to achieve accurate and uniform heating for the best
application possible. 
Features an i

mproved Flex design, making it easier to spray in tight areas

The new design is

20% Lighter than previous whip hose

Designed with

24″ of

an

insulated, non-heated section near

the

gun

Compatible with all Graco Reactor Heated Hoses

Includes reliable Xtreme Wrap scuff guard
4. Allegro: Breathing Air Blower
The Allegro Breathing Air Blower supplies comfortable and safe breathing air for users in an industrial, commercial or residential setting. Its portable and lightweight design allows for easy mobility. For long-term durability and product longevity, the blower is contained in a roto-molded plastic housing and is a low-maintenance unit that comes with a washable and removable filter. As one of this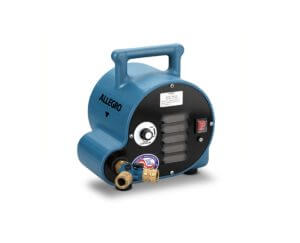 year's highlighted spray foam products, this blower is ideal for OSHA compliance with its fresh air system, while simultaneously improving productivity. When using the product, note that a small temperature difference of 3° F to 10° F (-16.11° C to -12.22° C) is very significant when the air is blowing directly onto the user's face and into breathing passages. This pump does not add heat to the breathing air, as opposed to the regular ambient fresh air pumps. Stay efficient and safe on the jobsite with the fresh air system!
5. Suburban Manufacturing: New Sidewinder Hose Sleeve with Fresh Air Hose Pocket
No more tangled hoses or snagging! Let the Sidewinder SPF Sleeve do the work for you. Suburban Manufacturing offers non-insulated and insulated versions of their New Sidewinder Hose with an external pocket to bundle your fresh air hose. Sidewinder also helps control viscosity and reduces wear to proportions,
eliminating these headaches listed below. 
Inability to maintain ideal temperatures under varying conditions 

Hours spent repairing heavy hose sock and replacing tattered duct tape

Replacing costly FTS cables, FTS sensors and defective whips

Loss of yield, cutting into profit
6. Global Specialty Products: SurfaSeal™
SurfaSeal is an eco-friendly, silicone-free specialty lubricant spray foam product.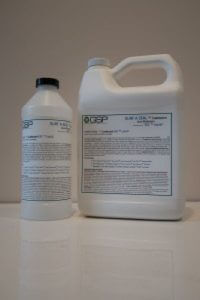 While preventing coatings from drying on components and causing damage, SurfaSeal creates a high level of lubrication on the displacement rod that protects and elongates the pump rod. This premium spray foam product reduces abrasions, wear and friction, extending the life of the equipment and preventing flash rust. It also protects airless paint and coating sprayers. It is an ideal replacement for TSL for the wet cup on the proportioner.
Suburban Manufacturing: Tsunami PUR 5 Regenerative Air Dryer
Get the same high-quality air as Suburban Manufacturing's Ultra Dryer line, but at a reduced price. The Pre Series Regenerative Air Dryers are the newest line to the Tsunami Compressed Air Systems. With two types of models to choose from, the Pure 5 and Pure 10, the dryers use a simplified control system and filtration system to guarantee the removal of oil, water and particulate matter before entering the dryer. These dryers perform to achieve dew points to -80°F and humidity as low as .01% RH. 
IDI IS YOUR ONE-STOP- SHOP FOR WHOLESALE INSULATION SUPPLIES
Find the best spray foam products of the year at your local IDI Distributors. We offer top-of-the-line spray foam products for projects of all kinds. If you're looking to increase revenue and decrease downtime, we have a solution for you. Find an IDI location near you to shop our wide selection of equipment, gain access to resources and our onsite training, or contact our team directly to speak with a representative.