Everyone's been told a picture's worth a thousand words, but for those of us working on building envelopes, a picture can be worth thousands of dollars. According to Sam Rashkin and the department of energy, showing a customer infrared images of specific problems in their  home or building is very motivating. In fact, it makes building owners five times more likely to act on what you are showing them and pay you to fix it. 
Insulation, HVAC, Electrical, or Plumbing Contractors
So what about infrared? Do you already have a camera? I sure hope so. Do you use it for hunting? I know that's off subject, but lots of hunters do. Mine is used mostly to hunt for higher margin opportunities.. If you don't have one already, here is a bit of a guide and a video on two lower-priced camera models that can really boost your sales when it comes to commercial and residential retrofit projects. Infrared cameras are perfect for finding leaks or missing insulation, but they even work on new construction projects for finding places your crew may have missed while spraying foam.
Flir One Pro
This camera attaches to your cell phone and takes great pictures. Thanks to the MSX technology, the images are better than cameras that cost thousands of dollars years ago. MSX technology allows this camera to take both infrared pictures and standard digital pictures at the same time and then overlays them on top of each other. The resulting images taken of insulation from the infrared camera are remarkable compared to years ago. The Pro also pairs well with an app you can download that gives you some post editing features and the ability to share the photos.
Flir C5 Wi-Fi
The C5 is really a great step for Flir. This stand–alone, durable camera offers 19,200–pixel images and still has the MSX technology. The infrared camera comes with a forward-facing flashlight that can be used for lighting up areas and giving better digital images in crawl spaces and dark areas. The unit also has great post–capture editing features with the ability to add notes to each photo before they are uploaded. Another benefit is the free Flir Ignite website where you can upload all of your images to and share them. 
The next feature is not free. That said, it's still a great feature. Flir created their Thermal Studio where you can create detailed reports, with even more post–capture editing. You can also add your own logos, maps, and graphs to create polished and very compelling reports.  The camera comes with 3 months of the software for free, but at the time of this blog, the annual license is about $150.00. After seeing what the studio can do, I believe it is well worth it and I'm sure they will be adding more features all the time.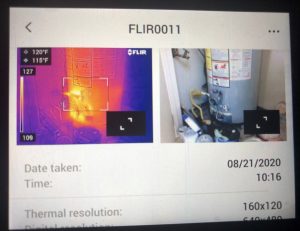 Ready to Make More by Using Flir
Infrared Cameras?
In closing, my main hope is that everyone has, and uses, an infrared camera in your insulation or contracting business. There's no greater way to locate, diagnose, and share building envelope problems with property owners. And where there are problems… checkbooks open up to fix them. If you are ready to take the next step and get your first IR camera, or a new one, reach out to your local branch, or contact us at the main office. If you would like training or any other information on making money using an infrared camera on your projects, come to an IDI training or give us a call.  Our goal is to help you grow your profits and to earn your business every day.