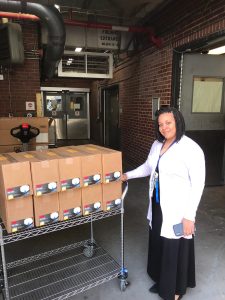 They say a picture is worth a thousand words….and in this case, this picture is one of saving lives.
My son, Brett, is a clinical pharmacist at Jessie Brown VA in downtown Chicago. He works closely with Doctors on the frontline treating patients, dispensing meds in the ER, drawing meds in ICU intubations, etc. In catching up with him over the weekend, I could hear complete desperation in his voice as their medical team tries to "fight" this life-threatening COVID-19 virus. His concern is more for their nurses than himself and went on to explain they had hardly any PPE supplies, especially the masks. Nurses are having to go into these rooms and treat infected patients without the crucial N95 masks.
As a very concerned and somewhat upset MOM, I immediately went on Amazon and bought what I could, which is extremely limited. I still don't have them.
I discovered by accident during a business discussion with Tina at their branch, that IDI stocked these N95 masks as part of their safety equipment & accessories. I also understood that they have a limited supply of the product. Kurt Walters connected me with Chris Novogratz on Monday night and within minutes truly, Chris was reaching out to see how he could help. All I wanted was access to buy some N95 masks and drive them to the hospital as soon as I could.
This picture is the substantial delivery of N95 masks that Mike Reynolds, Branch Manager of their IDI Elgin location, delivered (as a DONATION) to the Jesse Brown Hospital on Tuesday morning. Literally within 12 hours of my discussion with Chris.
I want to recognize the efforts, compassion and humanity of Chris Novogratz, Mike Reynolds, Tina Gawerecki and really the entire IDI Team.
You are a perfect example of a Company that LEADS with THEIR HEART. We are all grateful to be aligned with such a great, caring company and the Jesse Brown VA Medical Team is beyond thankful for your generosity. You truly have helped to save lives!!!
Thank you!
Cheryl Whitten